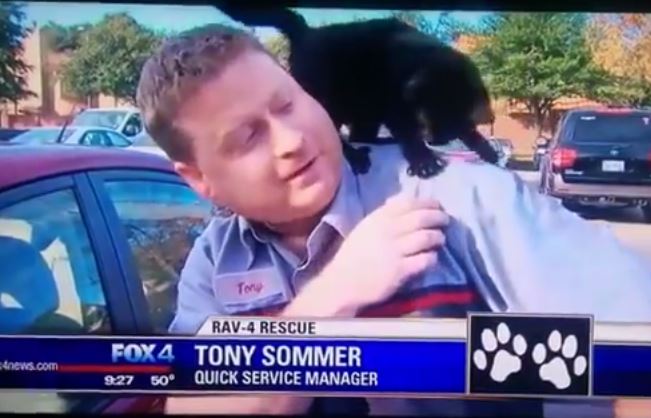 Here is your daily dose of adorable. A sweet story has just come out of our auto repair shop in Richardson that is sure to warm your heart: a kitten rescue.
It was just a normal day last month for the service technicians at Toyota of Richardson. They were working on the engine of a Toyota RAV4 when one of our techs noticed two big green eyes looking up at him. Slightly startled, he looked closer and saw that a small kitten was curled up between the car's battery and side fender.
Now if you know anything about cats, you know that they tend to frighten easily. So it won't come as a surprise that when the service techs moved to take the cat out of the engine, the little girl shot up and darted away. It was truly a game of cat and mechanic, as our service guys tried to recapture the kitten as she dashed all over the service area. Funnily enough, it wasn't until the cat jumped back into the car that they were finally able to get ahold of her.
"She's one lucky kitty," said quick service manager Tony Sommer. "She's definitely used up one of her lives already."
Tony and the little kitten have become fast friends. He is currently looking for a forever home for the lucky girl. If you would like to find out how you can take this adorable little girl home, contact us today!