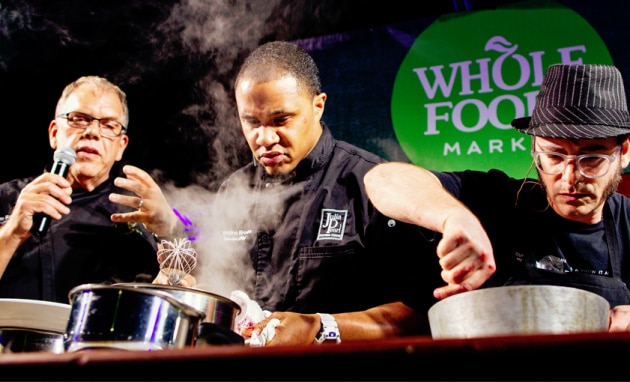 Wednesday, April 26, 2017
7 p.m. to 10 p.m.
Centennial Hall at Fair Park
With scrumptious samples at every station, the Observer Iron Fork is a treat for discerning foodies and anyone else who loves to munch. Presented by Whole Foods Market, the event offers a flavorful experience where you can taste a wide range of flavor profiles, from savory to sweet, spicy, salty and everything in between.
Along with unlimited samples from some of the best local restaurants around Dallas, Iron Fork will also feature an Iron Chef-type battle in which two renowned chefs will complete for the Iron Fork award. They'll each be given a basket of ingredients and will compete to see whose cuisine reigns supreme.
If you don't want to miss the epic culinary battle and an opportunity to eat, drink and mingle, get your tickets online!
GENERAL ADMISSION TICKETS
General admission tickets to Iron Fork are currently $45; however, the website notes that ticket prices will increase, so don't hesitate to make your purchase if you want to get the lowest cost. GA tickets include unlimited food samples and eight wine, beer or cocktail samples.
VIP TICKETS
VIP tickets are currently $75. Along with unlimited samples and eight drink tickets, VIPs get one hour early admission at 6 p.m. (regular entry time is 7 p.m.) and complimentary valet parking before 6:30 p.m.
VIP TABLE PACKAGE
For $1,500, this package will get you 10 VIP tickets and a reserved table for 10. The tables provide a great view of the Iron Fork Chef Competition and two bottles of wine are included for you and your guests. The package also includes early entry into the event.