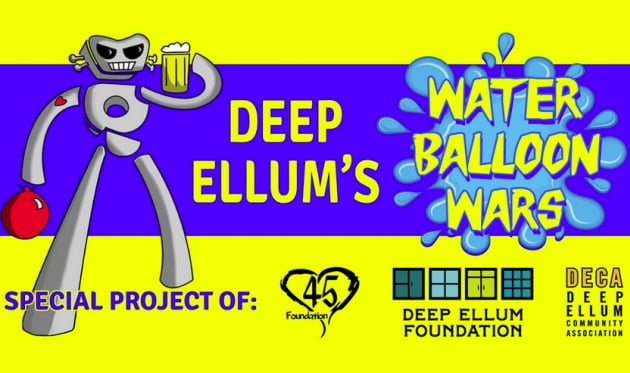 You may know Deep Ellum for its arts and entertainment, but now you can experience it in a whole new way. Coming up on Aug. 27, 2017, the neighborhood is hosting an epic battle where you're sure to have a splash!
If you've got fond childhood memories of having water balloon fights with your friends or siblings, Deep Ellum's upcoming Water Balloon Wars is your chance to relive those times! Proving that water balloon battles aren't just for kids, this adults-only event will include everything from dunk tanks and water slides to – of course – a battle featuring 60,000 water balloons and thousands of people. The event doesn't stop there, either. Participants will also get to enjoy live music, and there will be food and drinks available.
If you want to take part, general admission to the event is only $25 (plus fees), or you can opt for the VIP package ($40 plus fees) which includes a water gun, sunscreen, smartphone protector and Foundation 45 backpack. Tickets are available online now, so get yours before they sell out.
You must be 18 or older to attend this event.
Date & Hours:
Sunday, Aug. 27, 2017
Noon to 6 p.m.
Location:
274 N. Crowdus St.
Dallas, TX