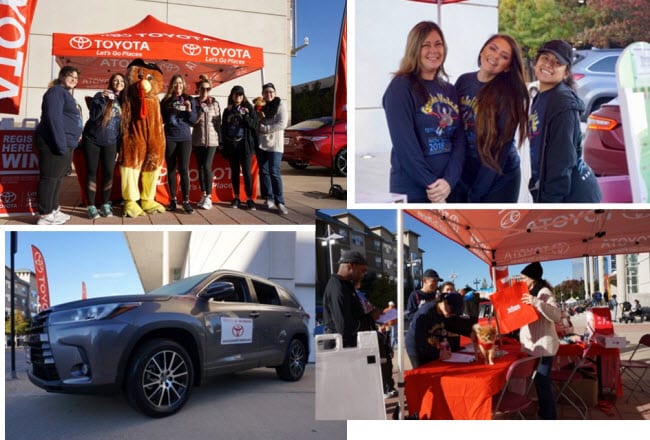 We were proud to participate in and be the exclusive automotive sponsor of the 2018 Gobble Hobble Fun Run! On Saturday, Nov. 17, several ladies from our finance department took place in the run, and we had a booth where attendees could check out the 2018 Highlander, Corolla and Camry. In addition, our booth had games that attendees could play to win prizes, and people could register for a chance to win a Samsung Sound Bar. Even Miss Texas stopped by!
The 2018 Gobble Hobble Fun Run was a huge success, raising over $30,000 for the Boys & Girls Club of Richardson. The run took place right here in Richardson at Galatyn Park and more than 400 participants joined the annual event, which includes a 1-mile fun run, 5K and 10K, so people of all levels can participate.
This was our second year supporting this fundraising event, and we were proud to contribute to the cause once again. The Boys & Girls Club is a wonderful nonprofit that offers numerous services that promote academic success, living a healthy lifestyle, self-esteem building and more. To learn more about the Gobble Hobble Fun Run and its beneficiary, visit the official event website.
Below: Miss Texas and our General Manager Brad Clark