The tires of your Toyota are the only part of the vehicle  that is always touching the ground, which means they are vital to the  continuing function of your car. It is important that your tires receive full  service at least once a year to ensure that they are in the best condition and  keep you and your passengers safe. Underserviced tires can be an unnecessary  risk as you drive down the road. Eliminate this risk by bringing in your Camry,  Sienna or Highlander to Toyota of Richardson for tire service from our  team.
Signs That You Need Service or New Tires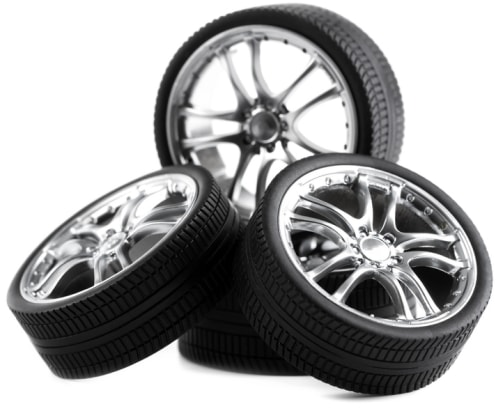 Tires should be receiving full service at least once a year to make sure they are in good shape. This should involve a tire rotation,  balancing and alignment. Keeping up with the health of your tires should also involve checking the air pressure of your tire throughout the year. This regular maintenance keeps your car on the road and at its peak performance.
The minimum requirement for tire service is that it is performed once a year, but each procedure and replacement have recommended time  frames for when to get them done.  
It is advised that rotation is performed every six to eight  months, or every 6,000 to 8,000 miles. Rotation evens out the wear of your tire  tread. It changes the position of your tires on the car, as not all tires wear  at the same pace. With regular rotation, one tire won't wear out before the others and you can replace all four at the same time.
Balancing and alignment ensure that your tires are all  straight and follow the direction of the steering wheel. These procedures  should be performed every three to six months, or every 3,000 to 6,000 miles. Regular balancing and alignment improves the handling and prevents drifting while you drive.
Checking out the air pressure should be done multiple times throughout the year and is easy enough to perform yourself. The manual for your  Toyota should inform you of the proper psi range for your tires.
Tires that are not properly inflated can lead to poor handling as well as the danger of a sudden blowout. Typically, your car will  inform you with an orange signal light on your dashboard that your tires don't  have enough air.
There is a general rule of thumb about when to replace  tires. Tires should be replaced around every five years, and you should not use  tires for more than ten years. When to get new tires depends on how often your  tires are used and serviced. Without maintenance, you may find that your tires don't last a full five years. Get the most out of your tires by taking good  care of them.
Rely on Toyota of Richardson
The service team at Toyota of Richardson is here to provide  the best care and service for your car. We understand the importance of your  tires and their role in keeping you and your passengers safe. Toyota of  Richardson will provide comprehensive tire service and inform you of any problems we come across that can compromise you or your vehicle.
If it is time for regular service or if you  notice any signs of failure, be sure to bring your Toyota to our dealership  in Richardson. Schedule an appointment with our service team at Toyota of Richardson online today