Review the 2013 4Runner from Toyota Dealer in Dallas - Ft. Worth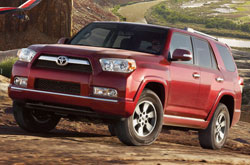 Thanks for choosing Toyota of Richardson as your resource for 2013 Toyota 4Runner reviews. The Toyota 4Runner reviews are recorded by experienced vehicle authors. It is just one of many resources we provide as the foremost Toyota retailer in Dallas - Ft. Worth. Make informed decisions when it comes to your next auto purchase, don't take guesses! Each passage is stuffed with facts and vehicle features in way that's easy to understand. Is the 4Runner right for you? Find out below!
Compare the Toyota 4Runner's Specs & Features
Compare the 2013 Toyota 4Runner against vehicles like the 2013 Chevrolet Traverse, Nissan Pathfinder, Jeep Grand Cherokee, Dodge Durango, Hyundai Veracruz and the Honda Pilot, and you'll spot that the 4Runner trumps the competition in loads areas. Scan our Quick List below to find out why!
2013 Toyota 4Runner MSRP: $31,340
2013 Toyota 4Runner Body Style(s): SUV
2013 Toyota 4Runner Colors: Black, Megnetic Grey, Salsa Red, etc...
2013 Toyota 4Runner 0-60 MPH in 6.8 seconds
2013 Toyota 4Runner Cargo Space: 46.3 cubic feet
2013 Toyota 4Runner MPG: 17 city / 22 highway
2013 Toyota 4Runner Seats: 5 passengers
Trim Levels & Amenities for Dallas - Ft. Worth Toyota 4Runner Drivers
Learn About the 2013 4Runner's Engine & Powertrain
The 2013 4Runner Was Designed With Your Safety in Mind
Learn About Our Toyota Auto Repair Center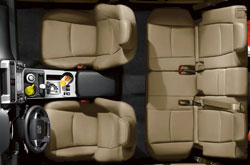 You won't get Toyota trained service techs, a 12-month warranty on service and bona fide Toyota parts at a national auto facility in Dallas - Ft. Worth, so visit Toyota of Richardson instead. Toyota of Richardson 's auto service specialists will help keep your Toyota 4Runner in athletic condition. We tackle a large spectrum of jobs: from more complicated, tedious operations like shock and strut maintenance to easy stuff like tire alignment and replacement and routine inspections. Toyota of Richardson is your safe bet in Dallas - Ft. Worth for fast, professional Toyota 4Runner repairs and regularly scheduled maintenance. Get specials for repair. You can check out discounts by clicking the succeeding line of text.
Contact our service center day or night using our online form