Corolla Update from Dallas - Ft. Worth Toyota Research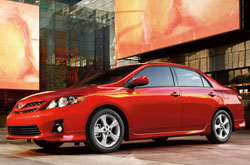 Have you ever wondered about the new Toyota Corolla's features, specs and more? Find out below! Don't stress out over your next purchase; look to the premier Toyota dealer in Dallas - Ft. Worth for thoroughly researched reviews written by industry specialists. Make intelligent decisions when it comes to your next auto purchase, don't take guesses! Each article is jammed with data and vehicle features in way that's easy to understand. We wish you the best of luck in your search for the perfect Toyota!
360 Degree Toyota Corolla Video
Introduction to the 2013 Toyota Corolla in Dallas - Ft. Worth
Bullet List of Corolla Specs & Features
When comparing the 2013 Toyota Corolla to the 2013 Honda Civic, Chevy Cruze and the Ford Focus, and you'll discover that the Corolla outshines those autos in numerous aspects. Get a load of just a few of the reasons below.
2013 Toyota Corolla MSRP: $16,230
2013 Toyota Corolla 0-60 MPH in 9.1 seconds
2013 Toyota Corolla Seats: 5 passengers
2013 Toyota Corolla Cargo Space: 12.3 cubic feet
2013 Toyota Corolla Colors: Barcelona Red, Black Sand Pearl, Tropical Sea, etc...
2013 Toyota Corolla Body Style(s): sedan
2013 Toyota Corolla MPG: 27 city / 34 highway
New Features Available on the Toyota Corolla in Dallas - Ft. Worth
Safety Features & Warranty Info for Dallas - Ft. Worth Toyota Buyers
Our Toyota Auto Repair Center: Helping You Maintain Your Investment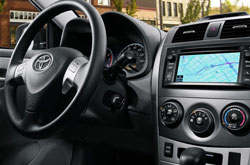 Your Toyota deserves to be treated with the utmost care - that means Toyota factory- trained Corolla technicians, the sense of contentment that comes from a 1 year service work warranty and authentic Toyota Corolla parts. Toyota of Richardson service and Toyota repair in Dallas - Ft. Worth is a double click away! Toyotas in Dallas - Ft. Worth can take a shellacking, so turn to the auto repair pros in Dallas - Ft. Worth - Toyota of Richardson . We handle a wide array of jobs with no trouble, including Toyota serpentine belt replacement, timing belt replacement and, of course, tough tasks like shock and strut repair - and this is just a portion of what we can work on. Make a solid choice when deciding on a reputable place to have your Toyota Corolla repaired, and remember: At Toyota of Richardson you can trust you'll get one-on-one service and budget prices on Dallas - Ft. Worth car repair. Follow the link below to see our current service specials.