Richardson Toyota Dealership Reviews the New Prius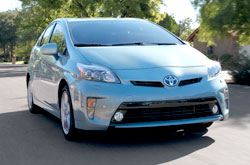 The visually iconic Toyota Prius is the progenitor of modern hybrids and still at the head of the class. 2015 Toyota Prius reviews agree the Prius leaves most other hybrid cars behind. Toyota's revolutionary Hybrid Synergy Drive system set the mark too high for most other competitors.
This year, the Prius is available in four versions: The standard liftback, the Prius V wagon, the Prius C subcompact, and a plug-in hybrid version of the liftback. With a spacious and attractive interior and plenty of convenient storage spaces, the Prius makes a perfect commuter.
Check out the 2015 Prius in Richardson. Note the extremely aerodynamic shape, with its rounded front, steeply raked windshield, gradually sloping roof, and high, truncated tail. This liftback version is the most recognizable of the Prius lineup, but it now also comes in a plug-in hybrid model.
The Prius V is a modern take on a family wagon. You'll find 34.3 cubic feet of storage space behind the rear hatch-style door. That's more than you'll find in a lot of crossovers. Multiple seating configurations let you optimize your wagon for carrying cargo or people. You'll also find several smaller storage compartments to stash phones, flashlights, first aid kits, and other assorted necessities.
The Prius C is a compact hatchback. It is the smallest member of the Prius family. With great fuel economy and great maneuverability, this little Prius is a great fit for the urban environment. An extensive menu of options makes this version highly customizable.
In its 2015 Toyota Prius review, Kelley Blue Book calls Prius the hybrid to beat. Whether you want to save the planet or just save some money at the pumps, the Prius is the quintessential hybrid car and a solid all-around choice. Maybe there is Prius in your future. See the 2015 Toyota Prius in Richardson at Toyota of Richardson.�