About Toyota of Richardson Sienna Reviews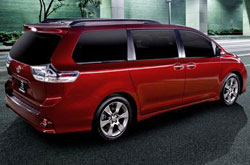 The minivan is an imminently practical vehicle for transporting people and their stuff. While the ever-popular crossover has taken a large portion of the market that used to be owned exclusively by the minivan, there are still some things a van does better than a shrunk-down SUV. Of these things, 2015 Toyota Sienna reviews agree the Sienna does them as well or better than most of its competitors.
Quiet, comfortable, roomy, and versatile, with great infotainment and connectivity features, the Sienna has a dazzling array of appealing attributes. Test-drive the 2015 Toyota Sienna in Richardson. You'll notice the interior is one of the nicest in the class, with first-rate materials and a handsome design. The user-friendly climate controls and an easy to use touch-screen infotainment system are a welcome relief from the busy and overwrought control panels of some competitors. The second-row seats slide forward and back to optimize legroom for second-row passengers or to ease access to the spacious and adult-sized third row.
With a 266 horsepower 3.5-liter V6 and a six-speed automatic transmission, you'll find the Sienna delivers confident acceleration whether you're tooling around or cruising on the freeway. The tuned suspension and more rigid body materials minimize body roll and smooth out corners. Sienna is also the only minivan available with an all-wheel drive option to improve its sure-footedness in inclement weather. We get some of that in Texas from time to time.
The Sienna takes top scores in safety testing and has a plethora of features to assure crash avoidance and occupant protection. Standard safety tech includes antilock disc brakes, stability and traction control, front-seat side airbags, full-length side curtain airbags, a driver-side knee airbag, a front passenger seat cushion airbag, active front head restraints and a rearview.
The 2015 Toyota Sienna in Richardson is available in five main trim levels and several additional premium sub-trims. All versions come standard with front-wheel drive, but the LE, XLE and Limited also can be optioned with all-wheel drive. Learn more as our 2015 Toyota Sienna review continues below.