What's New for the 2022 Toyota GR 86?
For the Toyota GR 86, a new engine is the main update for the 2022 year. The 2022 GR 86 replaces its previous engine with one that provides more power and quicker acceleration. Now, the GR 86 can go from 0-60 MPH in just 6.1 seconds with the new engine under its hood. Torque is also increased with the 2022 model year's engine. In addition to a new engine, the GR 86 coupe has a choice of two transmissions. It also has some updates to its cabin that include refreshed technology and safety features. The GR 86's frame has been adjusted slightly as well for a more rigid design, and its suspension is updated for a smoother ride.
2022 GR 86 Trims & Features
The 2022 Toyota GR 86 is still produced in two trim levels. The base trim level has plenty of amenities, but you can also choose a Premium trim with additional creature comforts if you want a bit more. The base GR 86 has a user-friendly touchscreen with an eight-inch display screen. Android Auto and Apple CarPlay come with the infotainment system on both trim levels. Along with this display screen, the GR 86 has a separate digital instrument display that provides real-time performance information as you're driving along. Rear seats that fold to produce more cargo storage and carrying space are standard on the GR 86. Along with the amenities on the Base trim, the Premium adds dual-zone climate control and upgraded seating material that is a combination of leather and faux suede. Heated seats are also added to the top trim level, and its audio system has two additional speakers for improved sound quality.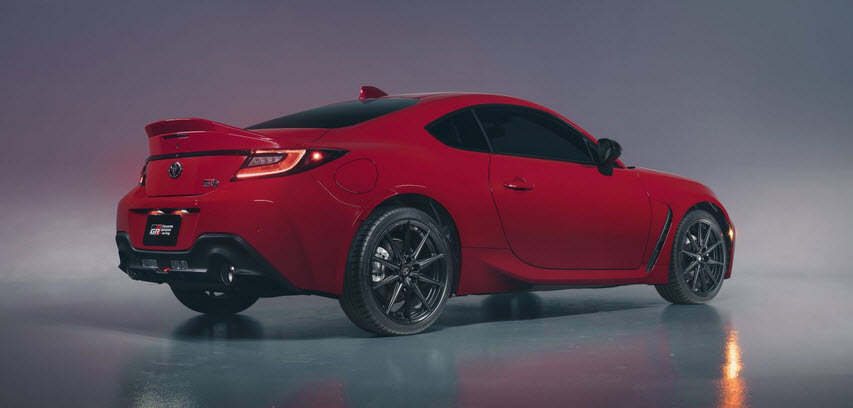 2022 Toyota GR 86 Horsepower
The 2022 Toyota GR 86 has a gasoline engine with four cylinders for 2022. Toyota's new engine increases its maximum power output to 228 HP, which is more than the maximum of 205 HP that it had with the previous engine. In addition to the manual transmission that was standard before, you can now get the Toyota with an automatic transmission instead. Both transmissions have six speeds. Rear-wheel drive is Toyota's standard drivetrain.
Toyota GR 86 Safety
The 2022 Toyota GR 86 gets a variety of advanced safety aids to keep you safe on the road. Automatic emergency braking is standard, along with adaptive cruise control and lane departure warning. Adaptive LED headlights are available as well.
Visit Us in Richardson Today
Contact us today for the latest updates on the 2022 Toyota GR 86.